Bacon Cheeseburger Skewers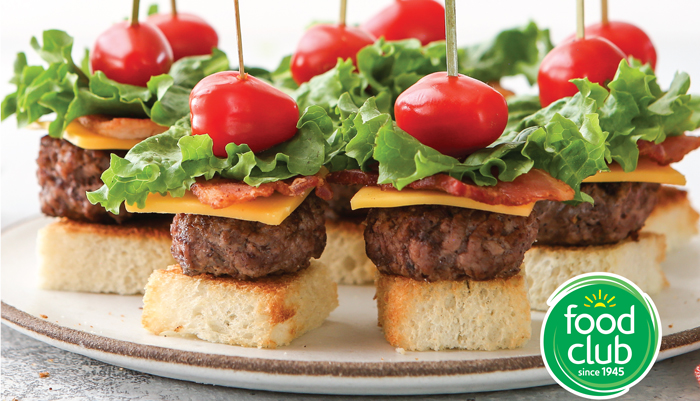 Prep Time: 20 minutes
Cook Time: 20 minutes
Total Time: 40 minutes
Servings: 8
Flavors of bacon, fresh tomato, and juicy burger all come together in one amazing summertime skewer.
Directions
Step 1
Cook bacon in a skillet over medium high heat until crispy, about 3-4 minutes on each side. Transfer to a paper towel lined plate to drain.
Step 2
While bacon is cooking, prepare the ground beef. Portion into 16 equal pieces and shape into a small patty about 1 inch thick. Season with salt and pepper.
Step 3
Once bacon is done, cook beef patties in the skillet until browned and cooked all the way through, and an instant read thermometer inserted into the center reads 165°F, about 3-5 minutes per side.
Step 4
While burger patties are cooking, toast bread cubes under the broiler for 1-2 minutes until lightly toasted. Watch carefully so they don't burn.
Step 5
To assemble the skewers, pierce a cherry tomato with a toothpick or mini skewer, followed by a small piece of lettuce. Stack a toast, burger patty, bacon, and cheese together and then stick the prepared skewer through it.
Step 6
Repeat with remaining skewers and serve immediately.
Step 7
To serve with the dipping sauce, whisk mayonnaise and ketchup together until smooth. Store any leftovers in the fridge.
Cook's Notes
To make ahead, keep burger patties and bacon warm in a 200°F oven and cover toasts with plastic wrap so they don't dry out. Assemble skewers right before serving. You can also spread a little of the dipping sauce on the toasts before assembling, if desired