Bratwurst & Cabbage Pockets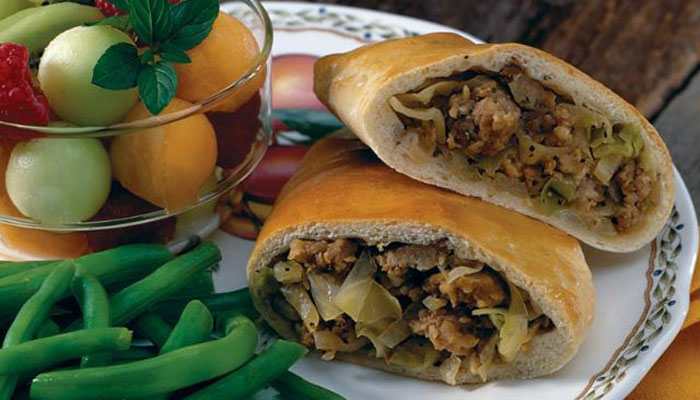 Cook Time: 15 minutes
Total Time: 15 minutes
Servings: 12
Bratwurst & Cabbage Pockets are the perfect addition to any St. Patrick's Day menu. Deliciously plump with a stuffing of Johnsonville sausage and green cabbage and encased in a soft bread dough, this recipe cooks in just 15 minutes.
Directions
Step 1
In a large skillet, cook and crumble sausage over medium heat until browned and fully cooked; drain. Set aside and keep warm.
Step 2
Add cabbage and onion to same skillet; cook and stir for 6 minutes. Sprinkle with salt and pepper. Return sausage to skillet; cook and stir for 2-3 minutes. Cover; reduce heat and simmer for 5 minutes or until vegetables are tender.
Step 3
Roll bread dough until it is 36-inches long and 8-inches wide, place 1/2 cup of filling every 6-inches.
Step 4
Brush water on edges of dough and in between filling to help with sealing of product.
Step 5
Pull dough over top of filling and crimp down edges with a fork and cut apart. Product should be in shape of a half moon.
Step 6
Bake at 350ºF for 12-15 minutes; until golden brown.