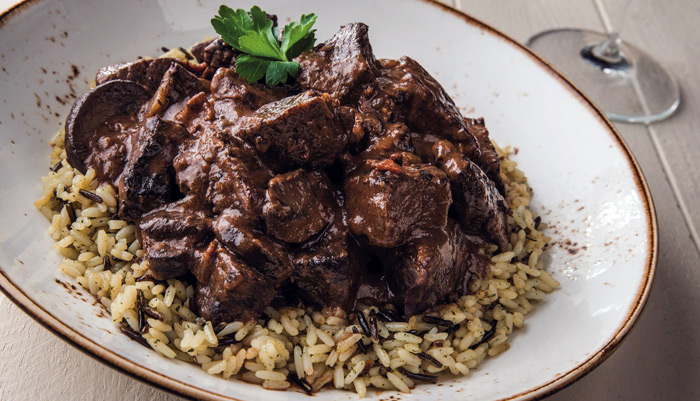 This easy-to-prepare classic French Beef Bourguignon is made with Certified Angus Beef English roast, bacon, mushrooms, and red wine to warm your heart and soul on chilly nights.
Directions
Step 1
Preheat oven to 275°F.
Step 2
In a large Dutch oven or skillet, cook bacon until browned. Remove with a slotted spoon and set aside. Season beef cubes with salt, sear in batches, over medium-high heat for 2 to 3 minutes in the bacon fat. Set seared beef aside.
Step 3
Add a tablespoon of oil to the pan as needed and sear mushrooms over medium-high heat for 2 to 3 minutes.
Step 4
Stir in onions, flour and thyme, sear an additional 2 minutes; until onions soften. Stir in pepper and red wine, scraping browned bits from pan into the liquid; reduce wine by half.
Step 5
Return beef to the pan; add beef stock and bacon, cover tightly and place in oven. Braise for 3 hours until tender.
Step 6
Serve Beef Bourguignon over warmed rice and garnish with parsley.