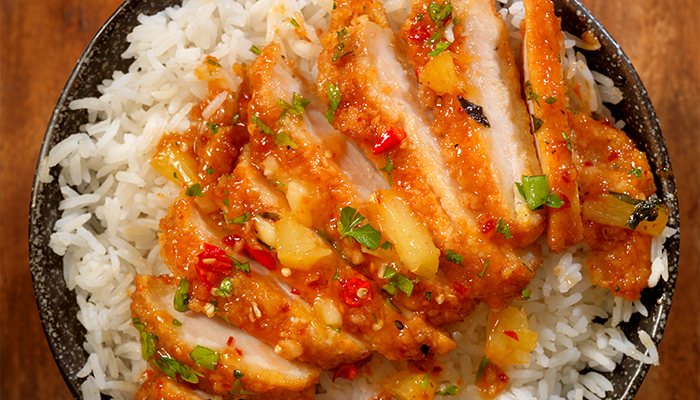 Prep Time: 20 minutes
Cook Time: 30 minutes
Total Time: 50 minutes
Servings: 6
I was looking for something to do with some chicken tenders, opened up the pantry and saw an old can of coconut milk and a bottle of rum. This was born.
Directions
Step 1
Mix 1 cup flour with the corn meal, salt and jerk seasoning.
Step 2
Dredge the chicken tenders in the 1/2 cup flour, dip in the beaten egg, then coat in the corn meal mixture.
Step 3
Heat the oil in a skillet and then fry the chicken over medium heat until golden brown on all sides.
Step 4
While the chicken fries, mix the coconut milk, rum and pineapple chunks with juice in a saucepan and heat on medium-low until reduced by about 1/3.
Step 5
Mix the corn starch and 1/4 cup water into a slurry and pour into the coconut-rum mixture and stir thoroughly. Heat to a simmer and then remove from heat.
Step 6
While making sauce, boil 2 cups water with bouillon cubes.
Step 7
Add rice to boiled bouillon water, reduce heat to low and cover. Let cook for 20 minutes.
Step 8
Spoon cooked rice onto a plate, lay fried chicken tenders on it and then cover with the rum-coconut-pineapple sauce.