Slow Cooker Lemon Chicken & Rice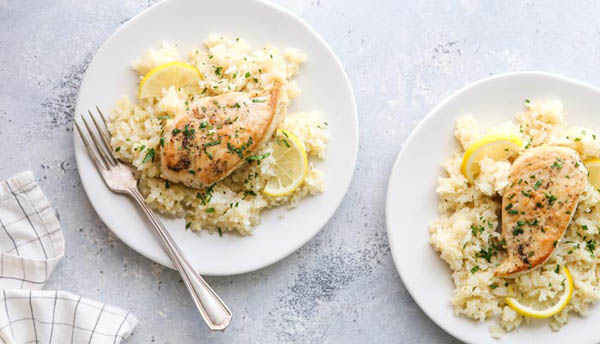 This 5-ingredient Slow Cooker Lemon Chicken & Rice recipe is perfect for a quick weeknight dinner.
Directions
Step 1
Grease a large (5 or 6-quart) slow cooker with nonstick cooking spray.
Step 2
Add rice, chicken broth, minced garlic, lemon zest, juice of ½ the lemon, salt and pepper to the slow cooker and stir until combined.
Step 3
Preheat a skillet over medium high heat and add olive oil. Sprinkle chicken with additional salt and pepper and brown in skillet on both sides, about 4-5 minutes on each side.
Step 4
Place browned chicken breasts in slow cooker on top of rice mixture.
Step 5
Cover and cook on high for 2 hours, or until chicken is cooked through and rice is al dente. Check chicken after 1 ½ hours for doneness and remove from slow cooker early if necessary. Chicken is done with no longer pink in the middle and an instant read thermometer reads 165°F.
Step 6
When rice and chicken are done, drizzle with juice from remaining ½ lemon and fluff rice with a fork. Serve immediately.
Cook's Notes
Browning chicken before cooking in the slow cooker improves flavor and gives the chicken a nice golden color, but this step can be skipped if desired.