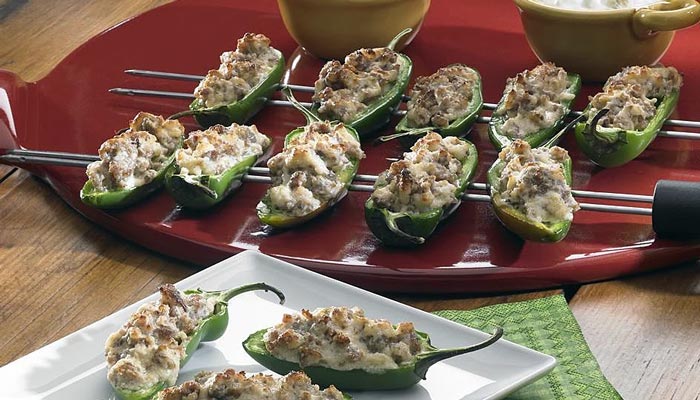 Cook Time: 15 minutes
Total Time: 15 minutes
Servings: 10
Signature brat flavor with creamy, spicy goodness of jalapenos, cream cheese and Parmesan cheese explode in these Cheesy Pepper Poppers. Bake, grill, or air fry for the perfect appetizer or snack anytime.
Directions
Step 1
Preheat oven to 400° F.
Step 2
In a large skillet, cook and crumble meat over medium heat until no longer pink; about 5-7 minutes.
Step 3
In a small bowl, combine cooked meat, cream cheese and Parmesan cheese.
Step 4
Spoon mixture into prepared peppers.
Step 5
Arrange filled peppers on an ungreased baking pan. Bake until lightly browned; about 12-15 minutes.
Step 6
To Grill: Preheat gas grill or prepare charcoal grill according to manufacturer's directions. When ready to grill, place peppers on a grilling tray over medium-low heat; about 10 to 12 minutes or until lightly browned.
Step 7
Air Fryer Preparation: Preheat air fryer to 320ºF for 3 minutes. Place stuffed peppers into preheated air fryer. Cook at 320ºF for 5 minutes or until browned.
Step 8
Serve "poppers" with your favorite ranch or blue cheese dressing, if desired.