Cheesy Chicken & Bacon Pull-Aparts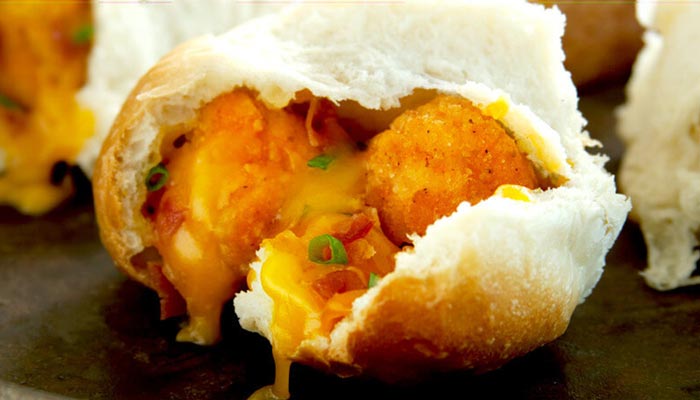 Prep Time: 10 minutes
Cook Time: 40 minutes
Total Time: 50 minutes
Servings: 6
Savory bacon, sharp cheddar, and meaty Any'tizers® Popcorn Chicken make these Cheesy Chicken & Bacon Pull-Aparts irresistible!
Directions
Step 1
Thaw frozen rolls according to package directions.
Step 2
Prepare Tyson® Any'tizers Popcorn Chicken according to package directions. Keep oven on set at 350°F
Step 3
On a clean work surface lay out the thawed yeast rolls.
Step 4
Press dough to flatten. Stuff each roll with 2 pieces of popcorn chicken. Evenly divide bacon, green onions and cheese. Stretch out the sides of each roll and overlap the filling to form a ball.
Step 5
Place the 7 rolls, seam side down, in the bottom of the pan and top with 5 additional rolls seam side down.
Step 6
Place the pan in the oven and bake 35-40 minutes, until the center is cooked thoroughly.
Step 7
Carefully flip the pan on its side to remove the bread from the pan and place on a serving dish right side up. Serve with ranch dressing for dipping.