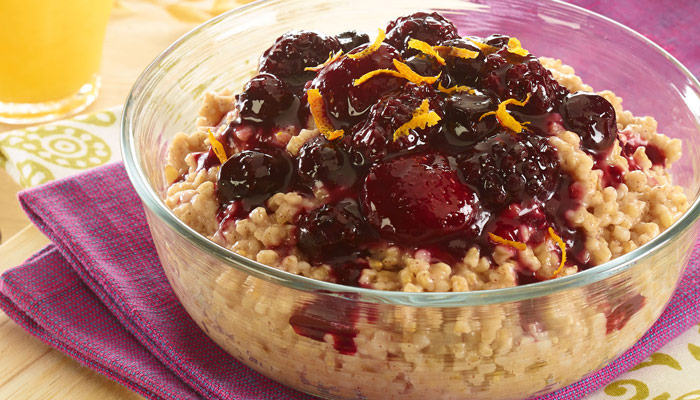 Prep Time: 10 minutes
Cook Time: 30 minutes
Total Time: 40 minutes
Servings: 2
Discover a fun and delicious way to enjoy the benefits of steel cut oats with our easy and delicious spiced mixed berries on top. Steel Cut Oats are considered a power food because it is an excellent source of protein, soluble and insoluble fiber and minerals. This recipe is so delicious it can be enjoyed for breakfast or dessert.
Directions
Step 1
Bring water to boil over high heat.
Step 2
Stir in oats, cinnamon and salt; bring back to a boil.
Step 3
Reduce heat to low and simmer gently, uncovered, stirring occasionally, 20 to 30 minutes to doneness desired; stir in butter until melted.
Step 4
Add a little more water or milk to achieve desired creaminess.
Step 5
Meanwhile, combine berries, honey, orange juice, orange rind and cornstarch in medium saucepan; bring to boil over medium heat.
Step 6
Reduce heat and simmer 5 minutes.
Step 7
Serve warm berries over oats.