Mini Chicken and Waffle Sliders
published Wednesday, April 22, 2020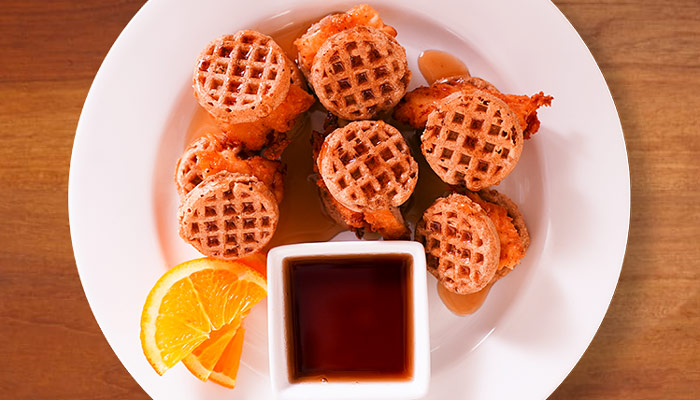 Prep Time: 20 minutes
Cook Time: 30 minutes
Total Time: 50 minutes
Servings: 6
This classic the classic southern breakfast dish gets turned into a fun, bite-sized brunch dish that kids can help make!
Directions
Step 1
Mix the buttermilk and 1 teaspoon seasoning salt in a bowl.
Step 2
Place chicken and buttermilk in a sealable plastic bag and toss tenders to coat.
Step 3
Refrigerate for at least 20 minutes or up to 24 hours.
Step 4
In a separate bowl, combine flour, remaining seasoning salt, and black pepper.
Step 5
In a 12" x 2" deep skillet, heat vegetable oil to 350°F.
Step 6
Coat chicken with flour mixture.
Step 7
Fry chicken tenders in three batches for 2 minutes on each side. The tenders should reach an internal temperature of 165°F.
Step 8
Heat waffles according to package directions.
Step 9
Place one tender between two mini waffles.
Step 10
Serve with maple syrup.