Berry Pinwheel Dessert Bites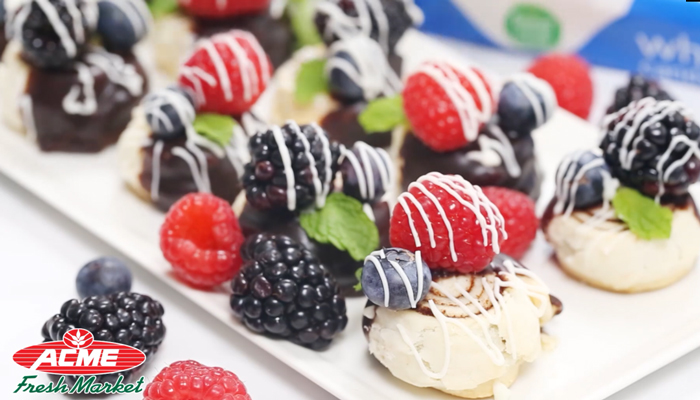 Prep Time: 20 minutes
Cook Time: 25 minutes
Total Time: 45 minutes
These dessert bites have the perfect amount of sweetness and fresh berries to be enjoyed as a brunch item, snack, or dessert.
Directions
Step 1
Preheat oven to 350°.
Step 2
Roll out refrigerated pie crust on a clean counter-top or cutting board.
Step 3
Spread melted butter over pie crust.
Step 4
Sprinkle ground cinnamon over melted butter.
Step 5
Roll up the pie crust, jelly roll style.
Step 6
Use a sharp, thin knife to cut the large roll into 10 rolls.
Step 7
Place rolls cut side up in a baking sheet coated with parchment paper.
Step 8
Bake for 25-30 minutes at 350°.
Step 9
Microwave creamy fudge frosting for 30-60 seconds and stir.
Step 10
Dip each cooked pinwheel half way (or fully) into warmed frosting. Set back on cookie sheet with parchment paper.
Step 11
Top the chocolate areas with mixed berries of your choice.
Step 12
Microwave 3 white chocolate squares for 30-60 seconds, until smooth when stirred.
Step 13
Drizzle pinwheels with melted white candy coating.
Step 14
Garnish with fresh mint leaf, optional.
Cook's Notes
White chocolate can be substituted for white candy Coating as shown in video.