Chocolate Bacon Roses Recipe
published Thursday, February 13, 2020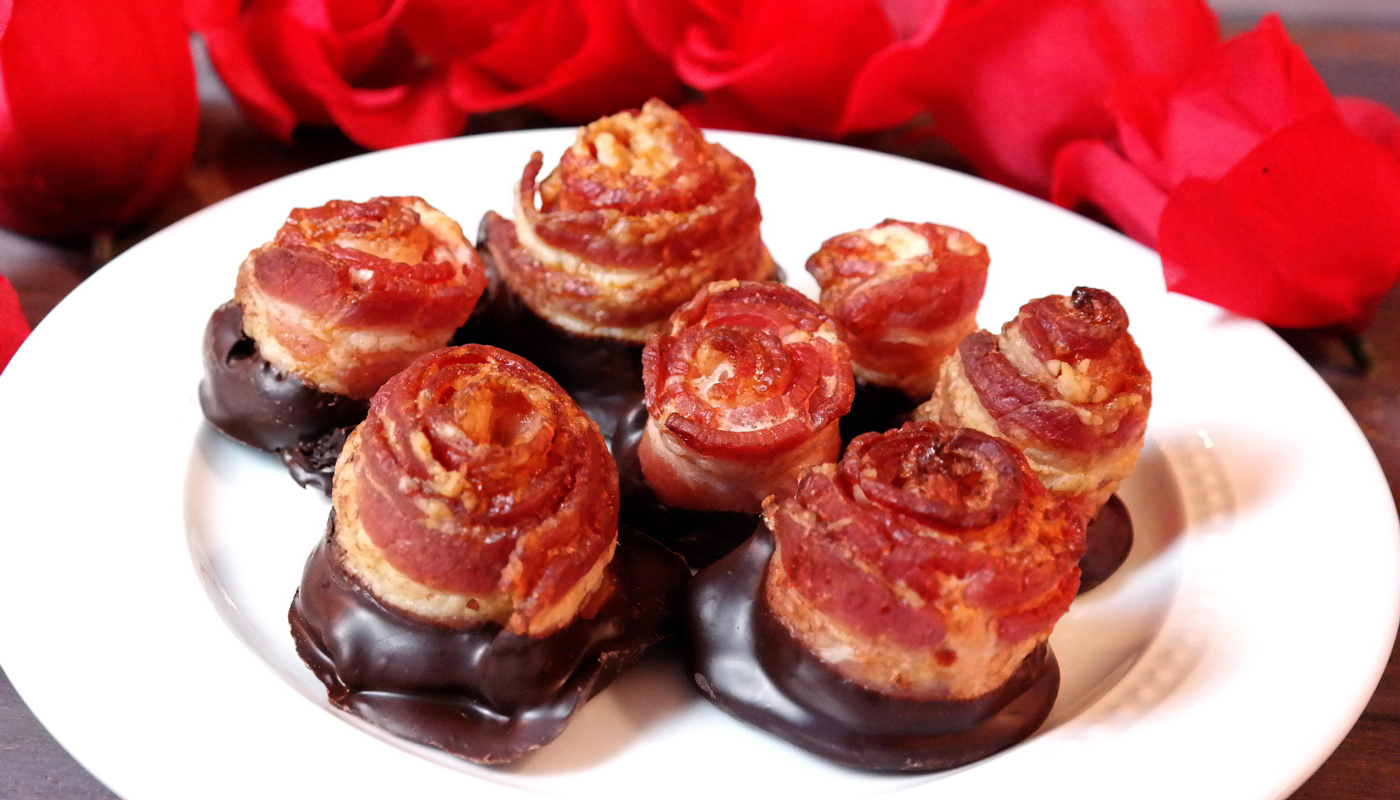 Prep Time: 30 minutes
Cook Time: 40 minutes
Total Time: 70 minutes
Servings: 8
This Chocolate Bacon Roses recipe is a delicious gesture of romance for everyone. Whether you give them as a gift to your romantic partner, to a friend, or as a family Valentine's Day treat, everyone will fall in love with Chocolate Bacon Roses.
Directions
Step 1
Preheat oven to 400°
Step 2
To create a closed rose bud, roll up 1 strip of bacon by grabbing one end of the bacon strip and rolling it to the end. Keep the fatty end of the bacon level while letting the meaty end looser to create the rose bud. To create an open rose bud, roll up 2 strips of bacon the same way. Allow the top to be looser to create a fuller, open rose petals.
Step 3
Secure the bacon roses with 2 toothpicks at the bottom (fatty end) of the bacon in an X formation. This X will help the bacon rose stand upright while cooking.
Step 4
Place roses 1" apart on a nonstick roasting pan with rack or line a baking sheet with foil.
Step 5
Bake closed rose buds for 30 minutes (or until done). Bake open rose buds (2 strips of bacon) for 40-45 minutes (or until done).
Step 6
Let cool completely on paper towel lined plate.
Step 7
Melt chocolate. See notes on how to temper chocolate.
Step 8
Remove toothpicks and dip fatty bottom of roses in melted chocolate.
Step 9
Place on plate lined with parchment or wax paper and freeze for 10 minutes so chocolate can harden.
Step 10
Serve on a nice platter or plate or place in a gift box to give as a gift. Keep refrigerated.
Cook's Notes
Recipe tips: Each package of Acme Thick Sliced Bacon comes with 12 slices of bacon. This will allow for 12 closed bud bacon roses or 6 open bud bacon roses. Don't wrap the bacon roses too tightly or they won't cook all the way through. Melting chocolate Microwave ¾ of the chocolate at 50% power in the microwave in 30 second increments until almost melted. Stir. Add remaining chocolate and stir until melted. Dip the bacon roses into the chocolate and freeze for 10 minutes to set the chocolate. Tempering chocolate If you would like to go above and beyond with the chocolate to create a shiny chocolate that doesn't melt in your hands and has a snap to it when you bit into it, consider tempering the chocolate. This step takes a little longer but it is easy to do. The key to tempering chocolate is to keep an eye on the temperature, it should never go above 88-90° for semi-sweet or 84-86° for milk chocolate. Microwave chocolate in bowl on HIGH for 30 seconds, stir. Continue microwaving for 15 seconds and stir, and 10 seconds and stir. If still not fully melted, microwave for 5 second intervals. Between each session, check the temperature to make sure it is not going above the noted temperature noted above. For a Fun Craft For a fun craft, you can create a bacon rose bouquet using artificial stems. Rinse artificial stems off with water at the base where artificial flowers were. Stick Chocolate Bacon Rose on stem base. Repeat with all bacon roses. Place Chocolate Bacon Rose Bouquet in a flower vase, refrigerate until ready to eat. Refrigerate leftovers.