Better Life Polish, Green, Stainless Steel, Lavender & Chamomile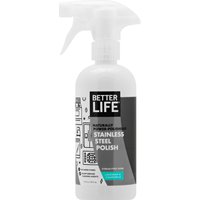 $7.29
16.0 oz.
Better Life Polish, Green, Stainless Steel, Lavender & Chamomile
Product Details
Polish, Green, Stainless Steel, Lavender & Chamomile
Einshine. E - brillian shine! Streak free. Appliance shine. Safe. Green like you've never seen. Better Life proves that safety and performance can play nice together. Created by two dads (Kevin's a top formulation chemist and Tim believes in a cleaner, greener world) who want toxins from conventional cleaners out of homes, away from kids, and off our planet. Simply put, Better Life makes the safest, most effective cleaners on and for the earth. Clean. Polish. Protect. Surfaces: Safely cleans and polishes stainless steel appliances: refrigerator, dishwasher, oven, cooktop, and range hood. Also great on chrome, nickel, titanium, and other fine metal surfaces. Scent: Naturally scented using only essential oils of lavender and chamomile. People: People and pet safe. Free of common skin and respiratory irritants. Hypoallergenic. Gluten-free. Planet: Far exceeds US and European biodegradability standards. Made from renewable sources. Safe for rivers and marine life. Free of VOCs. Performance: This non-abrasive formula cuts through grease and dirt while leaving a protective, streak-free shine that resists fingerprints and dust without an oily film. Non-Toxic: No fumes! Unlike most cleaners, Einshine is free of ammonia, silicone, petrolatum oils, and waxes. This product won't damage your stainless steel finish or your health. Using Better Life makes your home and our planet a little happier, greener and, of course, cleaner. Ingredient Summary: Get the facts. Know what's in your home. Cleaning Agents: Plant Derived 100%, Petroleum Derived 0%. Volatiles (VOCs): Solvents 0%, Petroleum Distillates 0%, Glycol Ethers of Ammonia 0%. Other: Silicones 0%, Mineral Oil 0%, Waxes 0%,Fragrance/Perfume 0%, Dyes/Color 0%, Preservative less than 0.01%. Essential Oils 0.3%. No parabens, ethoxylates, SLS or SLES. Not tested on animals. Made in the USA.
Aisle 11C
UPC: 00895454002096