21st Amendment Brewery Blah Blah Blah IPA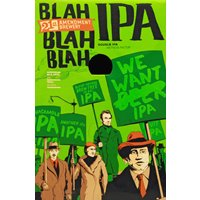 $11.99
6.0 pk.
21st Amendment Brewery Blah Blah Blah IPA
Product Details
21st Amendment Brewery Beer, Blah Blah Blah IPA, Double IPA
Celebrate the right to be original. We believe in the freedom to speak your piece. The freedom to want your beer more citrusy. More hoppy. More imperially and yes, we believe in the freedom to brew another IPA because - we want our IPA. The people have spoken and so, with hops in hand we pay tribute to all the IPAs that came before this one. This IPA is everything we love about the style, and all that blah, blah, blah. Guacamole IPA. Another IPA. Blood orange brew free or die! IPA. We want IPA. Sweet pickle IPA. Single double triple IPA. Certified independent craft. .0528 wetness factor. IBUs 65.3015. Alc./vol. 8%.
UPC: 00859612001307
Customers who bought this product also bought
Similar Products