Boylan Soda Pop, Vintage, Black Cherry
SALE!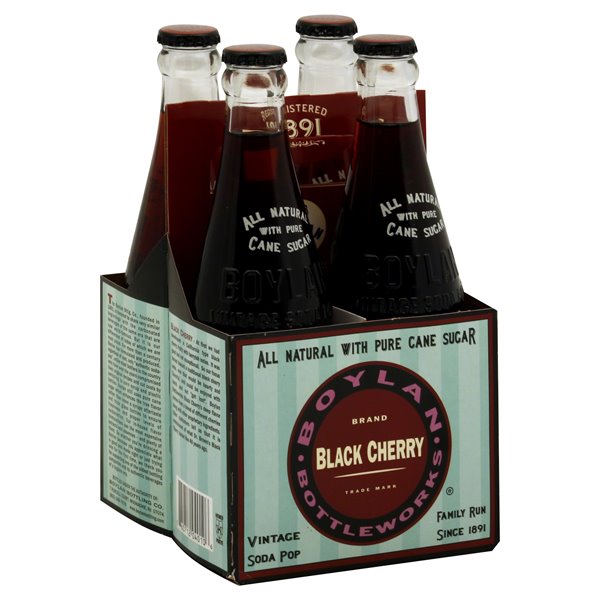 4.0 ea.
Boylan Soda Pop, Vintage, Black Cherry
Sale price valid from 7/1/2021 - 9/29/2021.
Buy now and save $1.00 each.
Product Details
Soda Pop, Vintage, Black Cherry
All natural with pure cane sugar. Family run since 1891. Mfrs of sparkling beverages since 1891. No high fructose corn syrup. No artificial colors. No artificial flavors. No preservatives. Caffeine free. Sodium free. Gluten free. The Boylan Bttlg. Co., founded in 1891, is honored to share very similar beginnings with the carbonated beverages of the same era that are now world-famous. But it is our differences of today of which we are most proud. For more than a century Boylan has formulated and produced, regardless of cost, only authentic soda-pop, unlike most bottlers in the country who have over the years compromised their original recipes and cut costs by switching to corn syrup and plastic bottles. Boylan still uses pure cane sugar which enhances the true flavor rather than leave a syrupy aftertaste and thick glass bottles to ensure freshness and proper levels of carbonation. Our in-house flavor formulations use the most expensive extracts and essences - and plenty of them. So whether you're drinking a Boylan because you appreciate what is good and made right or just trying one for the first time, we thank you for supporting one of the oldest bottling companies and its authentic beverages of a bygone era. Black Cherry - At first we had developed a California type black cherry; fruity with berryish notes. It was good but not exceptional. So our focus turned toward a traditional black cherry soda, one that would be hearty and flavorful, and could be enjoyed with lunch and not get lost. Boylan Bottleworks Black Cherry's deep flavor comes from a blend of different cherries along with other proprietary ingredients. Older customers tell us that it is reminiscent of what Dr. Brown's Black Cherry tasted like 40 years ago.
UPC: 00760712040106