Seventh Generation Pads, Chlorine-Free, Ultra-Thin with Wings, Overnight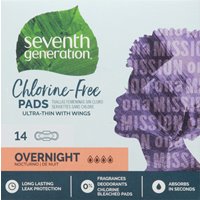 $4.99
14.0 ea.
Seventh Generation Pads, Chlorine-Free, Ultra-Thin with Wings, Overnight
Product Details
Pads, Chlorine-Free, Ultra-Thin with Wings, Overnight
Gluten Free. 0%: fragrances, deodorants, chlorine, bleached pads. Purefit flexible protection. Did you know? In the US, many people can't get the period care they need because it isn't always considered a basic human necessity. Try telling that to anyone who gets their period. What's in it for You: 1. Our period care products provide leak protection that works without the use of rayon and deodorants. Plus, since they're free from fragrances, you don't have to worry about exposing your most sensitive skin to these unnecessary chemicals. 2. These pads are made to care for you, and for the Earth. By avoiding chlorine whiteners in the absorbent material in our pads, we help prevent harmful toxins from entering waterways. 3. These ultra-thin pads feature our innovative purefit design which conforms to your body for reliable leak protection and comfort. Leak protection that works for you and the world. At seventh generation, our goal is to transform the world into a healthy, sustainable and equitable place for the next seven generations. Our product promise: Hypoallergenic. Gluten free. 0% fragrances, dyes, deodorants, rayon. These peel-away strips are whitened with a process that still utilizes chemicals containing chlorine. Our goal is for the strips to be whitened with the totally chlorine free process. www.seventhgeneration.com. how2recycle.info. seventhgenerationperiodcare.com. Instagram. Facebook. Twitter. 43 cent Donated per pack up to one million packs per year. We're on a mission. We're donating 43 cent for every pack of tampons and pads we sell in the US (Up to one million packs per year) to impactful nonprofits helping reverse this inequity. Visit seventhgenerationperiodcare.com to learn more & get involved. We donate the Tampon Tax - Many states charge you an unfair sales tax on period care products because they are not considered essential. For our period care products, this Tampon Tax is about 43 cent per pack. Our certification: B Corporation Certified. Try our full line of period care products: Ultra-thin & Maxi Pads. Liners. 99% Plant-based Plastic Applicator Tampons. No Applicator Tampons. Made in Canada with domestic and imported ingredients.
UPC: 00732913450039
Similar Products