Gt's Kombucha, Organic, Golden Pineapple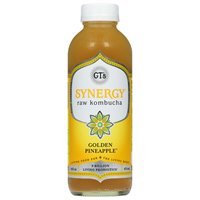 $3.89
16.0 oz.
Gt's Kombucha, Organic, Golden Pineapple
Product Details
Kombucha, Organic, Golden Pineapple
USDA Organic. Gluten-free. Vegan. Certified Organic by Organic Certifiers, Inc. Non GMO Project verified. nongmoproject.org. Aminos + polyphenols. Enzymes + probiotics. Renew. Rebalance. Rebuild. Reclaim. Rekindle. Recharge. Enlightened for everyone, everywhere. Raw. Living food for the living body. 5% Juice. Words of enlightenment - Embrace our differences, they are what make the world such an interesting place. - Deborah Dugally, Lover of Horses and Dogs, Sacramento, CA. What is Kombucha? Kombucha is a fermented tea crafted with a living culture (known as a Scoby) added to a base of sweetened tea. The Scoby consumes sugars and caffeine, transforming the tea into this revitalizing wellness drink known in ancient Asian cultures as the tea of immortality. Real, authentic Kombucha, like GT's, is raw and living, offers a tangy taste, natural effervescence, and visible culture strands. Always cultured, never compromised: The bottle in your hand bears my name as a symbol of promise. You have my word: GT's Kombucha is the most authentic Kombucha you can buy. With respect for centuries of Eastern tradition, and using heirloom living cultures passed down by my family, this sacred offering is lovingly handcrafted with goodness you can see, taste, and feel - just as nature intended. - GT Dave, Founder. nongmoproject.org. gtslivingfoods.com. Contact Us: Toll-Free: 877.735.8423. We invite you to enlighten us with your words at gtslivingfoods.com. Please recycle.
UPC: 00722430420165