Sensodyne Toothpaste, with Fluoride, Complete Protection, Extra Fresh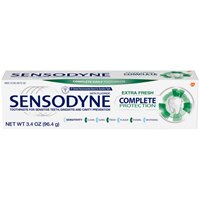 $6.59
3.4 oz.
Sensodyne Toothpaste, with Fluoride, Complete Protection, Extra Fresh
Product Details
Toothpaste, with Fluoride, Complete Protection, Extra Fresh
Other Information: Products containing stannous fluoride may produce surface staining of the teeth. Adequate toothbrushing may prevent these stains which are not harmful or permanent and may be removed by your dentist. This product is specially formulated to help prevent staining. Store below 30 degrees C (86 degrees F). Misc: Toothpaste for sensitive teeth, gingivitis and cavity prevention. Complete daily toothpaste. 9 out of 10 dentists recommended brand. No. 1 dentist recommended brand for sensitivity. Sensitivity. Clean. Gums. Fresh. Plaque. Enamel. Whitening. What is tooth sensitivity? Sensitivity can be a sign that your teeth are vulnerable, as dentin becomes exposed due to enamel loss or gum recession. When exposed dentin comes into contact with hot or cold, sweet or sour, or even your toothbrush, the nerve inside the tooth can be triggered, causing short, sharp pain. Fresh feeling. Protects enamel. Helps whiten enamel. Protects against plaque. Builds a protective layer over sensitive areas to shield you from pain (with twice daily brushing). Clean feeling. Why use Sensodyne Complete Protection toothpaste? This formulation has been specifically developed to deliver all the toothpaste benefits your sensitive teeth need. Brush twice a day with Sensodyne Complete protection toothpaste. Questions or comments? Call toll-free 1-866-844-2797.
HBC
UPC: 00310158085607