Burt's Bees Zen Peppermint Purely White Fluoride-Free Toothpaste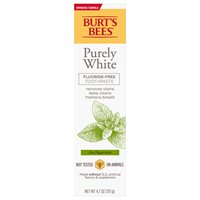 $4.59
4.7 oz.
Burt's Bees Zen Peppermint Purely White Fluoride-Free Toothpaste
Product Details
Toothpaste, Purely White, Fluoride-Free, Zen Peppermint
Fluoride Free. Free to Choose. We know that not everyone wants fluoride, but we all want a clean and fresh experience. We've carefully crafted this essential oil flavored toothpaste without fluoride - leaving you the choice! Great for whitening your teeth without the ingredients you don't want. We don't add what you don't want. Not tested animals. Made Without: Sodium Lauryl Sulfate (SLS), Triclosan & parabens; artificial flavors & sweeteners; preservatives & blue, red, yellow dyes; plastic microbeads. Fluoride Free: Experience the refreshment of Zen Peppermint toothpaste which will leave you clean and fresh! This toothpaste is crafted to help remove stains (Surface stains) to help you achieve a beautiful smile! Enjoy! Questions? 1-855-248-5352. We do as bees do. This carton can be recycled in curbside pickup options and see www.burtsbeesoralcare.com for tube recycling.
UPC: 00192539000016
Similar Products