Tanqueray London Dry Gin, Imported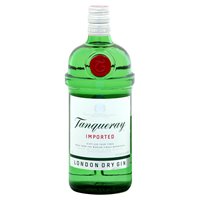 $27.99
1.0 lt.
Tanqueray London Dry Gin, Imported
Product Details
London Dry Gin, Imported
By appointment to her majesty the queen. Tanqueray Gordon and Company Ltd., London, England. Distilled four times. Made from the worlds best finest botanicals. Produced and bottled in Great Britain for Charles Tanqueray & Co. The exceptionally smooth taste of Tanqueray represents the finest quality in a London Dry Gin. With a long standing heritage of using only the finest botanicals and a unique quadruple distillation, Tanqueray is the perfect choice for a traditional Martini or other favorite classic cocktails. Tanqueray - Distinctively crisp Since 1830. Alc. 74.3% by Vol. (94.6 Proof).
UPC: 00088110110406