Bigelow Green Tea, with Wild Blueberry & Acai, Bags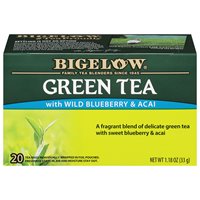 $3.79
20.0 ea.
Bigelow Green Tea, with Wild Blueberry & Acai, Bags
Product Details
Green Tea, with Wild Blueberry & Acai, Bags
America's classic. Family tea blenders since 1945. Blueberry & acai flavors go wild in your green tea. Healthy antioxidants. All natural. Tea bags individually wrapped in foil pouches. Freshness stays in. Air and moisture stay out. You want me to sell what? When my wife Eunice and I took over the company in 1960 we had one item Constant Comment ten teabags in a tin. If we wanted our little company to grow, we'd need a team of sales support. We'd heard about a salesman convention each year in Chicago and off the two of us went. We interviewed person after person looking for three things: the want to, will to and finally the ability to sell this completely unknown product. And boy was that a challenge. Year after year, we went, slowly piecing together a dedicated sales team. We endured people calling our product all kinds of names, my favorite being Constant Cement, and questions like you want me to sell what? - but never gave up. Slowly we found one fantastic person after another, slowly they built a presence around the country, and slowly consumers started to try Constant Comment and take note. Those were some long hours and concerning times but the people we discovered built the foundation for our business. We owe so much to that original team who decided to take a chance on Eunice, myself and our little tin of tea. - David Bigelow. Unlock the freshness - Here's the key. We use a special foil pouch to protect your tea from any air, moisture and surrounding aromas. So open and enjoy the unparalleled flavor; freshness; aroma of Bigelow Tea everywhere you go! Caff-O-Meter (Represents average caffeine content; individual products may vary.): Content per Serving: Coffee: 100-120 mg; Black Tea: 30-60 mg; Green Tea: 25-50 mg; Decaf Tea: 1-8 mg; Herbal Tea: 0 mg. Our Promise: We're fully committed to your satisfaction and we love to hear from you! When you do call, please share the code number on this box with the consumer service crew. RC Bigelow, Inc., Attn: Consumer Services Group, Fairfield, CT 06825-5512. 1-888-BIGELOW. bigelowtea.com. Ethical tea partnership. Bigelow Green Tea Blend: Green Tea with Wild Blueberry & Acai. We're Proud of Our Recipe: We took a walk on the wild side when we blended the popular combination of wild blueberry and acai with our gentle green tea. This sweet and tart recipe is sure to please green tea drinkers everywhere. Tea is a gluten-free beverage. Our boxes, tea bags, strings and tags are 100% biodegradable and we encourage you to do your part. Thanks! Blended and packaged in the USA.
Aisle 04B
UPC: 00072310008397