Schwebels Buns, Sandwich with Honey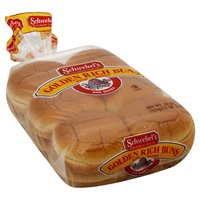 $3.29
12.0 ea.
Schwebels Buns, Sandwich with Honey
Product Details
Buns, Sandwich with Honey
Schwebel's. In 1906, Joseph and Dora Schwebel started baking bread in their kitchen. Each day, Dora carefully packed the 40 oven-fresh loaves into a basket and delivered them to families in her neighborhood. Today, the Schwebel ovens turn out more than Dora and Joseph's kitchen, but they're just as good. Just as fresh. Just as nourishing. You see, the Schwebel Bakery is still family owned and operated, and in a world where shortcuts and compromise are commonplace, we still use Dora's old-fashioned, slow batch0mixing process and choose only the finest quality ingredients. The Schwebel family is deeply committed to the baking craft and is involved with each step of the process. That is why we can promise you the very best breads available, delivered fresh every day. And that is why families like yours have trusted Schwebel's since 1906.
A1
UPC: 00071319000838