Biotene Oral Rinse, Dry Mouth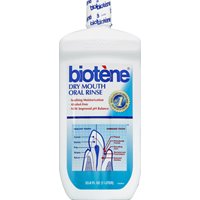 $11.59
33.8 oz.
Biotene Oral Rinse, Dry Mouth
Product Details
Oral Rinse, Dry Mouth
No. 1 dentist & hygienist recommended brand for dry mouth symptoms. Soothing moisturization. Alcohol-free. Improved pH balance. Healthy Tooth: enamel; dentine; pulp; gingiva; sulcus. Damaged Tooth: plaque; periodontal pocket; receding gum; bacterial and food debris; exposed dentine. An oral rinse with a soothing gentle feel that cleans, refreshes and relieves dryness and soothes oral irritations. Biotene contains a combination of moisturizers and humectants to help relieve dryness. Contains no saccharin. Sweetened with xylitol and sorbitol. Also look for other Biotene products. Biotene is specially formulated for individuals who experience dry mouth symptoms. www.biotene.com.
HBC
UPC: 00048582004405