Sun Maid Natural California Pitted Dates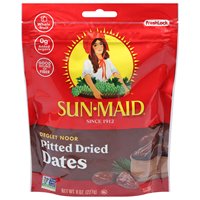 $2.79
8.0 oz.
Sun Maid Natural California Pitted Dates
Product Details
Natural California Pitted Dates
Taste the sunshine! Sun-Maid Pitted Dates are grown in California's southern desert region. Our Deglet Noor dates are ripened and dried by the sun to the peak of perfection, moisturized and packed in foil-fresh zipper bags to lock-in natural goodness. Great as a natural high-energy snack. Try stuffing with cheese or nuts. Add to salads or cereals. Health professionals agree that eating 5 to 9 servings of fruits and vegetables every day can be beneficial to your health. Just a quarter cup (1.5 ounces) of Sun-Maid California Pitted Dates provides a full serving of fruit. It's a great-tasting way to add more fiber to your diet. Get your 5 to 9 a day fruit and vegetable servings the fast and easy Sun-Maid way.
Produce
UPC: 00041143089088