Paws Premium Cat Litter, Clay, Scented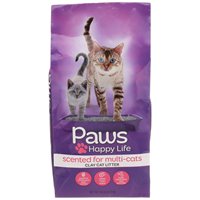 $3.69
10.0 lb.
Paws Premium Cat Litter, Clay, Scented
Product Details
Cat Litter, Clay, Scented
Long-lasting odor control. Fresh, clean scent. Super absorbent clay granules. Choose Paws Premium for your pal. No one understands that special relationship between people and their pets better than the folks at Paws Premium. Paws Premium knows that the connection between you and your pet involves more than just quality products. Healthy pets need attention, interaction, and unconditional love to flourish. That's what your pets are telling us each time they jump with delight when they see you, plant wet kisses on your face, or gently purr while warming your lap. Paws Premium understands that pets are lifelong pals. Each Paws Premium package celebrates this special bond by featuring 2 pals. You'll see the pals look alike, share daily routines, and have new adventures. Paws Premium knows your pet is your pal. Avoid ammonia-based detergents, their smell is similar to urine and could make the litter box smell dirty. An area rug or mat around the litter box will help to reduce tracking. Place the litter box in a quiet area that is easily accessible to your cat. Store in a dry area. Our special air sweep system reduces dust buildup, which minimizes litter tracking in your home. www.PawsforPets.com. Quality Guarantee: 100% satisfaction.
Aisle 09C
UPC: 00036800086609