Topcare Triple Blade Disposable Men's Razor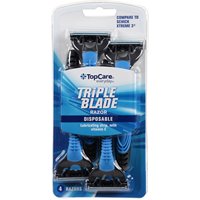 $6.39
4.0 ct.
Topcare Triple Blade Disposable Men's Razor
Product Details
TopCare Triple Blade Disposable Men's Razor
Compare to Xtreme3 (Xtreme 3 is a registered trademark of Energizer.). Convenience: No blade changing! Closeness: Three blades provide an ultra-close shave, while pivoting action adjusts to the contours of your skin. Comfort: Ergonomic handle design for comfort and control. Rubber grips provide superior control even when wet. The vitamin E and aloe lubricating strip reduces razor drag and irritation. Quality Guaranteed: This Top Care product is laboratory tested to guarantee its highest quality. Your total satisfaction is guaranteed. Questions? topcare@topco.com.
HBC
UPC: 00036800079281