Salada Black Tea, Original Blend, Tea Bags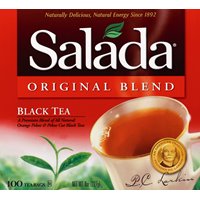 $3.99
100.0 ea.
Salada Black Tea, Original Blend, Tea Bags
Product Details
Black Tea, Original Blend, Tea Bags
A premium blend of all natural orange pekoe & pekoe cut black teas. Naturally delicious, natural energy since 1892. An American tradition. Founder P.C Larkin. An American Tradition Since 1892: After more than a century, Salada continues to satisfy America's taste for great tea. It's the same Salada Tea you've always known, with a taste as fresh and natural as America itself. The blend is true to the standards established by P.C. Larkin, founder of the Salada Tea Company, back in 1892. Salada has become a tradition as classic and timeless as the magnificent bronze doors that mark the entrance to the original Salada Tea building in Boston. These doors represent the early history of the tea trade. Over 12 feet tall and weighing more than two tons, the doors still stand proudly at 330 Stuart Street in Boston. All-Natural Goodness: At Salada, we use only carefully selected tea leaves in our products. To create our Selda Black Tea, the tea leaves are allowed to naturally undergo a process that fully oxidizes the leaves. This process and our dedication to quality is what consistently delivers that rich color and smooth taste you have come to expect from Salada. Our Guarantee: If you are not satisfied with the quality of this product, we will replace it or refund the cost, whichever you prefer. Send the top of this package, including the best by code date along with price paid, date and place of purchase along with your printed name and address, and reason for dissatisfaction to the address below. PO Box 1027, Little Falls, NY 13365. Please visit us at www.salada.com or call 1-800-645-1190 for more information.
UPC: 00020700404212
Customers who bought this product also bought
Similar Products