Handi Foil Loaf Pans & Lids, Mini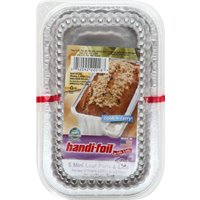 $5.98
5.0 ea.
Handi Foil Loaf Pans & Lids, Mini
Product Details
Loaf Pans & Lids, Mini
Pan Size: 5-23/32 in. x 3-5/16 in. x 1-7/8 in. (14.5 cm x 8.4 cm x 4.7 cm). With lids. Multiple plastic lids may stick together. Plastic lids not for oven use. www.handi-foil.com. For more info on recycling visit www.Eco-Foil.com. Made of 100% recycled aluminum. Rinse & recycle. Made in USA.
UPC: 00052092220187