Topcare Tc Self Grip 3" Tape
SALE!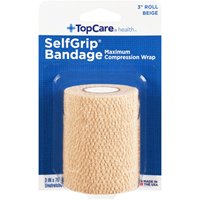 3.0 in
Topcare Tc Self Grip 3" Tape
Sale price valid from 9/5/2019 - 3/4/2020.
Buy now and save $0.30 each.
Product Details
TC SELF GRIP 3" TAPE
3 in x 70 in unstretched. Quality guaranteed. Will not stick to hair or skin, no clips needed, water resistant and tears evenly. USA Triathlon: Official athletic tape. TopCare Self-Grip Bandage helps athletes perform at their best by providing firm compression and maximum support to ligaments, tendons and muscles. The unique 98% cotton and 2% latex woven technology allows TopCare Self-Grip Bandage to adhere to itself without the use of pins or clips and without sticking to skin or hair. It tears evenly and is reusable. The exclusive properties of TopCare Self-Grip Bandage allow it to maintain a firm grip even under water. How TopCare Self-Grip Bandage Measures up to Traditional Elastic Bandages: TopCare Self-Grip Bandage: Product Features: No pins or clips; Adheres only to itself; Tears evenly to size; Reusable; Wicks out perspiration; Maintains grip in water. Traditional Elastic Bandages: Product Features: Reusable. For Maximum Comfort the Following Bandage Widths are Recommended: Finger or Wrist: 1 inch or 2 inches; Ankle, Foot or Elbow: 2 inches or 3 inches; Knee or Leg: 3 inches or 4 inches. Minimum unstretched length 70 in/1.78 m. Quality Guaranteed: This TopCare product is laboratory tested to guarantee its highest quality. Your total satisfaction is guaranteed. Made in the USA.
UPC: 00036800770331
Similar Products