Lysol Disinfectant Spray, Mango & Hibiscus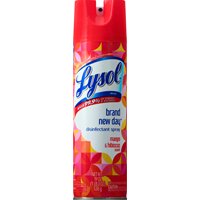 $7.79
19.0 oz.
Lysol Disinfectant Spray, Mango & Hibiscus
Product Details
Disinfectant Spray, Mango & Hibiscus
Kills 99.9% of viruses & bacteria. Your family comes in contact with germs everyday. This product helps fight the spread of germs (Kill Staphylococcus aureus, Avian Influenza A Virus, Escherichia coli O157:H7 and Respiratory Syncytial Virus on hard, non-porous surfaces in 3 minutes). Kills bold and rinse. Kills 99.9% of bacteria on soft surfaces as a spot treatment (Kills 99.9% of Klebsiella pneumoniae and Staphylococcus aureus on soft surfaces in 30 seconds). Prevents the build-up of mold allergens for up to 7 days. Kills odor-causing bacteria. Use this product in: Kitchen: sinks; garbage cans; refrigerator exteriors. Bathroom: bath tubs; shower; toilet seat. Home: door knobs; diaper pails; telephones. Soft Surfaces: couches sofas; mattresses; pet beds. Disinfects: Kills the following household germs. Viruses: Avian influenza A Virus (H1N1); Influenza A Virus (New Caledonia/20/99); Influenza B Virus (Strain B/Hong Kong/5/72); Rhinovirus Type 35; Feline calicivirus (Norovirus); Rotavirus WA; Herpes Simplex Virus Type 1; Herpes Simplex Virus Type 2; Respiratory Syncytial Virus (RSV). Bacteria & Fungi: Salmonella enterica; Escherichia coli 0157:H7 (E. coli); klebsiella pneumoniae - NDM-1 positive; Klebsiella pneumoniae Carbapenem Resistant; Streptococcus pyogenes; Penicillium chrysogenum; Staphylococcus aureus - Methicillin Resistant (HA-MRSA); Listeria monocytogenes; Pseudomonas aeruginosa; Trichophyton mentagrophytes (Athlete's Foot Fungus); Aspergillus niger (mold & mildew). Health. Hygiene. Home. This product meets AOAC Germicidal Spray Product Test standards for hospital aerosol disinfectants. Box Tops Clip: Box Tops for Education. Do Not Remove label/cut out Bar Tops for Education proof of purchase until product has been completely used. Box Tops for Education and associated words and designs are trademarks of General Mills, used under license. Go to boxtops4education.com for details. Important Facts about this product: This can is made from an average of 25% recycled steel (10% post-consumer). Encourage your local authorities to established a program to recycle this can. Steel: Please recycle when empty. Questions? 1-800-228-4722. For ingredient and other information, www.rbnainfo.com.
Aisle 11C
UPC: 00019200983655