Cold Eeze Zinc, Lozenges, Cherry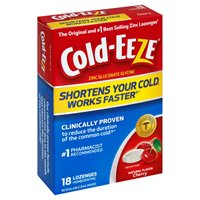 $5.99
18.0 ea.
Cold Eeze Zinc, Lozenges, Cherry
Product Details
Zinc, Lozenges, Cherry
Other Information: Do not take Cold-Eeze lozenges on an empty stomach to avoid possible minor stomach upset. Do not eat or drink 15 minutes after use. Store in a cool, dry place after opening; best if used within 6 months after opening. Gluten free. Misc: Homeopathic. Zinc gluconate glycine. Natural flavor. Shortens your cold. Works faster. Clinically proven to reduce the duration of the common cold. No. 1 pharmacist recommended. Clinically proven cold remedy. Resealable bag inside. The original and No. 1 best selling zinc lozenges (Based on unit sales of cold shortening, homeopathic zinc lozenges). Clinical studies have shown: The unique Cold-Eeze formula reduces the duration of the common cold by almost half. The double blind placebo controlled studies were conducted at the Cleveland Clinic and Dartmouth College and published in peer reviewed journals. Cold-Eeze is safe to take with most other medications and is gluten free. (See warnings). Does not cause drowsiness. Does not cause light headedness. Does not affect blood pressure. For cold-fighting tips and more about the Cold-Eeze science, go to www.ColdEeze.com. Questions or Comments: Call 1-800-505-2653 (M-F: 9AM-5PM EST). This product has no expiration date. Our clinically proven formula releases zinc ions in the mouth that shorten the duration of the common cold. Take Cold-Eeze when you have a cold. Continue until symptoms are gone. Gluten free. (These statements have not been evaluated by the Food and Drug Administration. This product is not intended to diagnose, treat, cure or prevent any disease.) Made in USA.
HBC
UPC: 00091108300130
Similar Products