Lactaid Fat Free Milk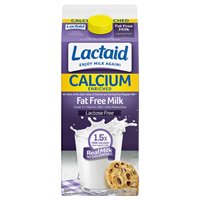 $3.99
0.5 gal.
Lactaid Fat Free Milk
Product Details
Lactaid Fat Free Milk
Lactaid® Brand Fat Free Milk. 100% real milk. No discomfort. 50% daily value calcium per serving. 100% lactose free. Calcium enriched. 20% more of the daily value of calcium than other milk. Easy to digest. Grade A. Vitamins A&D. Ultra-pasteurized. Half gallon (1.89L).
UPC: 00041383090219
Similar Products