Friendly's Oreo Premium Ice Cream Cake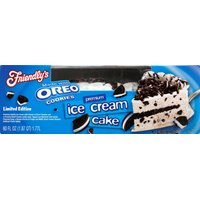 $17.99
60.0 fl. oz.
Friendly's Oreo Premium Ice Cream Cake
Product Details
Friendly's Ice Cream Cake Oreo Cookies
Friendly's® Oreo® Cookies Premium Ice Cream Cake. Quality since 1935. Limited edition. Premium vanilla flavored ice cream with chunks of Oreo® Cookies and a crunchy Oreo® cookie center layer, topped and bordered with vanilla flavored icing, a double drizzle of fudge and more Oreo® cookie chunks! Artificial flavor added.
UPC: 00029839000937
Similar Products